CANYON Nightfall GK-7, Wired Gaming Keyboard,Black 104 mechanical switches,60 million times key life, 22 types of lights,Removab
CANYON Nightfall GK-7, Wired Gaming Keyboard,Black 104 mechanical switches,60 million times key life, 22 types of lights,Removable magnetic wrist rest,4 Multifunctional control knob,Trigger actuation 1.5mm,1.6m Braided cable,US layout,dark grey, size:435*125*37.47mm
redeem
By buying this product you can collect up to 8 loyalty points . Your cart will contain total 8 points that can be converted into a voucher of €0.41 .
help_outlineAsk about product
Nightfall Mechanical Gaming Keyboard
Let your enemies quiver in fear after the night falls! This pro-level keyboard has black mechanical switches, acknowledged as the best technology for gaming so far. The keys mechanism is constructed with tiny gaps between actuation and release points, allowing to perform actions without an actual "click", with least possible pressing force. Each button is equipped with a Dual Core IC chip, where one core is responsible for NKRO anti-ghosting and anti-jamming technology and the other one – for custom lighting. In terms of design, this keyboard is a real blast! 22 customized types of backlight look amazing and the removable magnetic wrist rest helps to maintain full power during late night gaming sessions. Using Canyon Gaming software, you can assign macros and re-program button actions according to your personal gaming needs. Immerse in your favourite games and stay up all night!
Features:
• 108 buttons
• Black Canyon mechanical switches
• Key route 4.0 mm
• Trigger actuation 1.5 mm with force 80+/-10g
• 60 million pressings per button
• NKRO anti-ghosting and anti-jamming function
• Dual core IC chip
• Multifunctional control knob
• Full customization software
• Macros assignments
• "Windows/Start" button lock
• 22 types of backlighting
• Removable magnetic wrist rest
• Braided cable with ferrite magnet ring
• Double-injection keycaps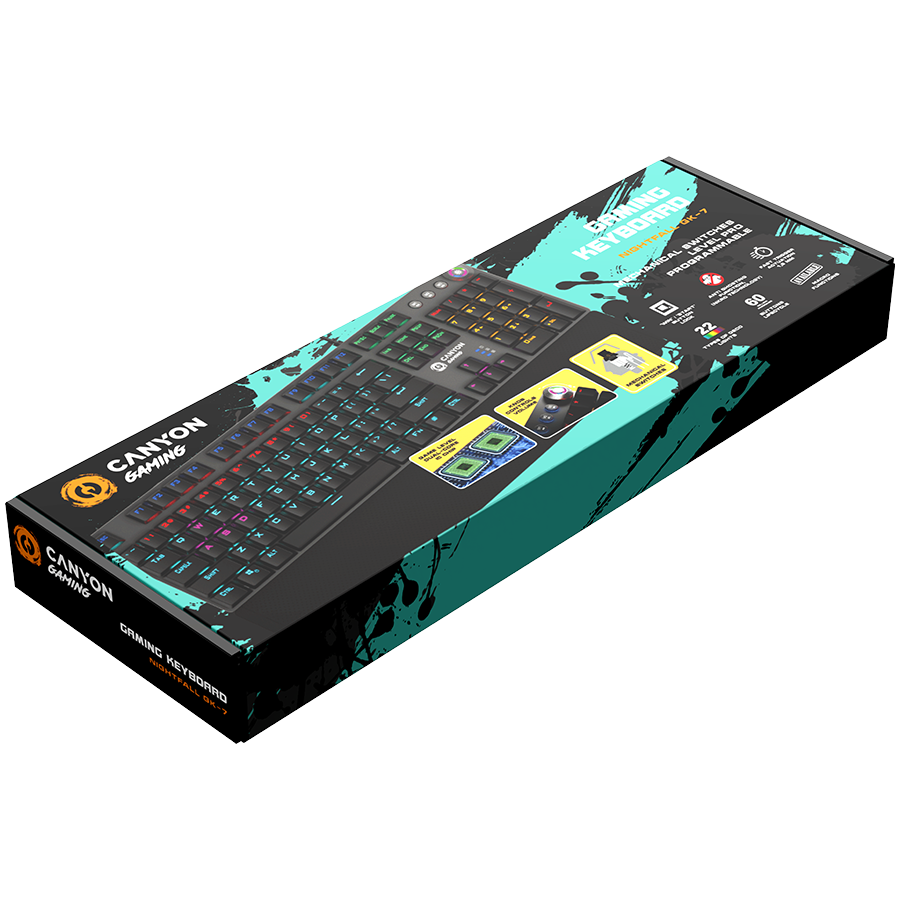 Data sheet
Ширина

123 мм

Височина

38.5 мм

Дълбочина

435 мм

Номинално тегло

0.99 кг

Гаранционни продукти - подлежащи на връщане

Да

Гаранционни условия (месец)

24 мес.

Критерии за валидност на гаранцията

Сериен номер

Дълбочина на пакета (мм)

475 мм

Широчина на пакет (мм)

50 мм

Височина на пакет (мм)

165 мм

Тегло на пакет - Бруто (кг)

1.08 кг

Брой в пакет

1

Тегло на кашон - Бруто (кг)

12.5 кг

Пакети в кашон

10

EAN код

5291485005627

Външен цвят

Тъмно сив
Черен

Тип пакет

С опаковка

Retail Packaging Net Weight Carton

0.2 кг

Retail Packaging Net Weight Plastic

0 кг

Тегло на пакет - Нето (кг)

0.88 кг

Marketing Model Name

Nightfall GK-7

Commercial Name

Keyboard Canyon Nightfall GK-7 RGB US Wired Dark Grey (CND-SKB7-US)

Технология на свързване

Wired

Дължина на кабела

1.6 m

Дълбочина на кашон (мм)

490 мм

Ширина на кашон (мм)

275 мм

Височина на кашон (мм)

360 мм

Quantity of the boxes per pallet (by air)(pcs)

32

Dimensions of pallet (by air)(cm)

1100x980x1590 мм

Quantity of the boxes per pallet (by sea)(pcs)

40

Dimensions of pallet (by sea)(cm)

1100x980x1950 мм

Интерфейс

USB

Packs per Pallet

400

Локализация

US English

Разположение на устройството

Външен

Локализация на клавиатурата

QWERTY

Характеристики на клавиатурата

Wrist Rest LED Backlight

Функция на бутона/клавиша

Програмируем

Брой клавиши

108

Keys Type

Mechanical

Electronic Life Cycle

60000000 Cycles