CANYON Eclector GM-3 Wired Gaming Mouse with 6 programmable buttons, Pixart optical sensor, 4 levels of DPI and up to 3200, 5 mi
CANYON Eclector GM-3 Wired Gaming Mouse with 6 programmable buttons, Pixart optical sensor, 4 levels of DPI and up to 3200, 5 million times key life, 1.65m Braided USB cable,rubber coating surface and colorful RGB lights, size:130*75*40mm, 140g
redeem
By buying this product you can collect up to 2 loyalty points . Your cart will contain total 2 points that can be converted into a voucher of €0.10 .
help_outlineAsk about product
Eclector Gaming Mouse
If you're looking for a reliable gaming mouse with minimalistic design, Canyon Eclector is a great find! 6 buttons, programmed in accordance with your individual preferences, high-quality optical sensor, convenient cable length, smooth signal transmission, ergonomic shape, RGB backlight, non-slip coating – all these features will help to make a long gaming session more immersive and convenient. The mouse is durable and comfortable, and also it has a wide DPI range, which is useful both for playing games and daily work.
Features:
• High-quality optical sensor Pixart 3168
• Programmable DPI settings 800/1200/2400/3200
• 6 programmable buttons
• RGB backlight
• Stylish braided cable with ferrite ring to protect against signal loss
• Cable length: 1.65 m
• Canyon Twin Surface coating technology
• Response frequency: 125/250/500/1000 Hz
• Built-in memory for settings saving
• Scan frequency: 3000FPS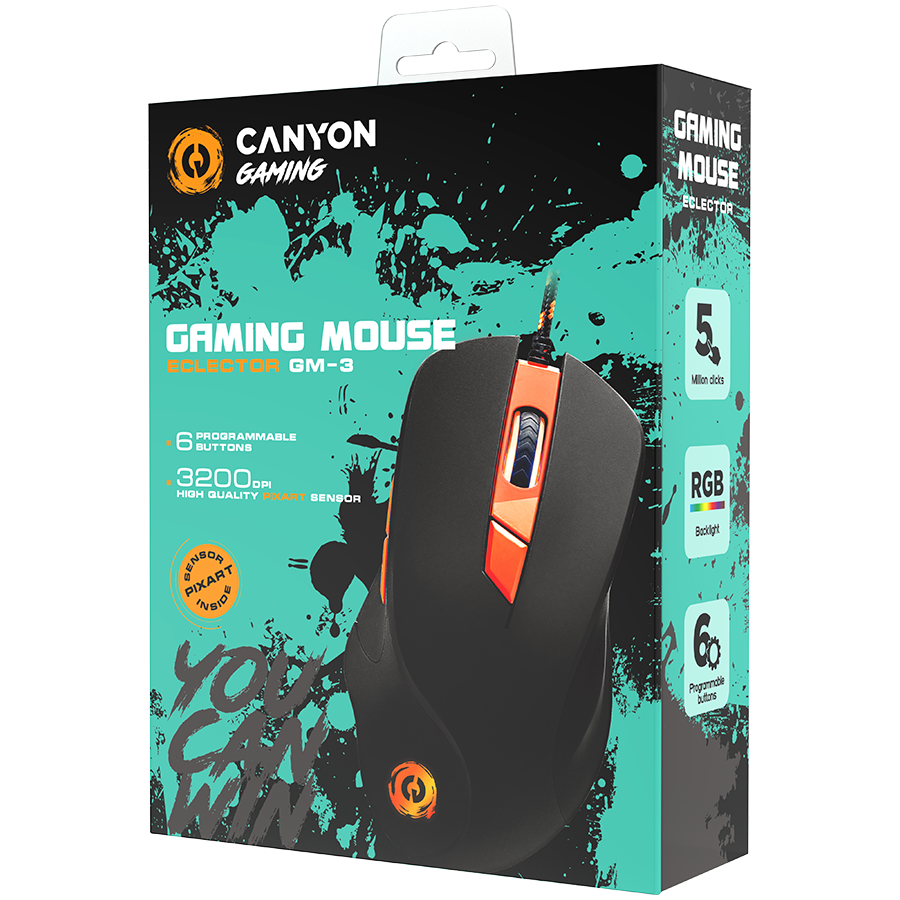 Data sheet
Ширина

130 мм

Височина

75 мм

Дълбочина

40 мм

Номинално тегло

0.14 кг

Гаранционни продукти - подлежащи на връщане

Да

Гаранционни условия (месец)

24 мес.

Критерии за валидност на гаранцията

Сериен номер

Дълбочина на пакета (мм)

150 мм

Широчина на пакет (мм)

55 мм

Височина на пакет (мм)

196 мм

Тегло на пакет - Бруто (кг)

0.301 кг

Брой в пакет

1

Тегло на кашон - Бруто (кг)

12.74 кг

Пакети в кашон

40

EAN код

5291485005894

Външен цвят

Black/Orange

Тип пакет

С опаковка

Retail Packaging Net Weight Carton

0.073 кг

Retail Packaging Net Weight Plastic

0.074 кг

Тегло на пакет - Нето (кг)

0.154 кг

Marketing Model Name

Eclector GM-3

Commercial Name

Mouse Canyon Eclector GM-3 RGB 6buttons Wired Black (CND-SGM03RGB)

Технология на свързване

Wired

Дължина на кабела

1.65 m

Дълбочина на кашон (мм)

585 мм

Ширина на кашон (мм)

320 мм

Височина на кашон (мм)

420 мм

Quantity of the boxes per pallet (by air)(pcs)

18

Dimensions of pallet (by air)(cm)

1200x1000x1410 мм

Quantity of the boxes per pallet (by sea)(pcs)

28

Dimensions of pallet (by sea)(cm)

1200x1000x2150 мм

Интерфейс

USB

Packs per Pallet

1120

Разположение на устройството

Външен (Автоматичен)

Технология на устройство

Оптичен

Функция на бутона

Програмируем

Брой бутони

6

Характеристики на мишка

RGB lightingRubber Side Grips

Макс. и мин. чувствителност при движение

3200dpi