CANYON C2N 1080P full HD 2.0Mega fixed focus webcam with USB2.0 connector, 360 degree rotary view scope, built in MIC, Resolutio
CANYON C2N 1080P full HD 2.0Mega fixed focus webcam with USB2.0 connector, 360 degree rotary view scope, built in MIC, Resolution 1920*1080, viewing angle 88°, cable length 1.5m, 90*60*55mm, 0.095kg, Black
redeem
By buying this product you can collect up to 5 loyalty points . Your cart will contain total 5 points that can be converted into a voucher of €0.26 .
1080p Full HD Webcam C2N

This webcam was created for those who work remotely, or frequently use video calls to communicate with family and friends. High-quality sound transmission and Full HD 1920x1080 video streaming, as well as 88-degree viewing angle, 360-degree rotation, five-layer lens, provide a good video quality and allow your online ,meetings to be as realistic as possible. Control your visibility - during a call, you can open and close the webcam privacy shutter so no one can see you. The device is compatible with Skype, Zoom, Google Meet, Microsoft Teams and other online messengers. Stay connected and enjoy the convenience, ease of use and quality of video transmission.
Features:

1080p Full HD webcam
Built-in microphone
Sensor resolution: 2 Mp
1/3 inch CMOS sensor
Maximum video resolution: 1920x1080
Maximum frame rate: 30fps (1920x1080)
Fixed focus
Focal length - from 20 cm to unlimited
Five-layer lens
Viewing angle - 88 degrees
Mechanical shutter
AWB / AE support
Interface: USB 2.0
360 degree rotation function
Multifunctional clip
Cable length 1.5 m
Compatible with Skype, Zoom, MS Teams, Google Meet, etc
Dimensions: 90x60x55mm
Weight: 0.095 kg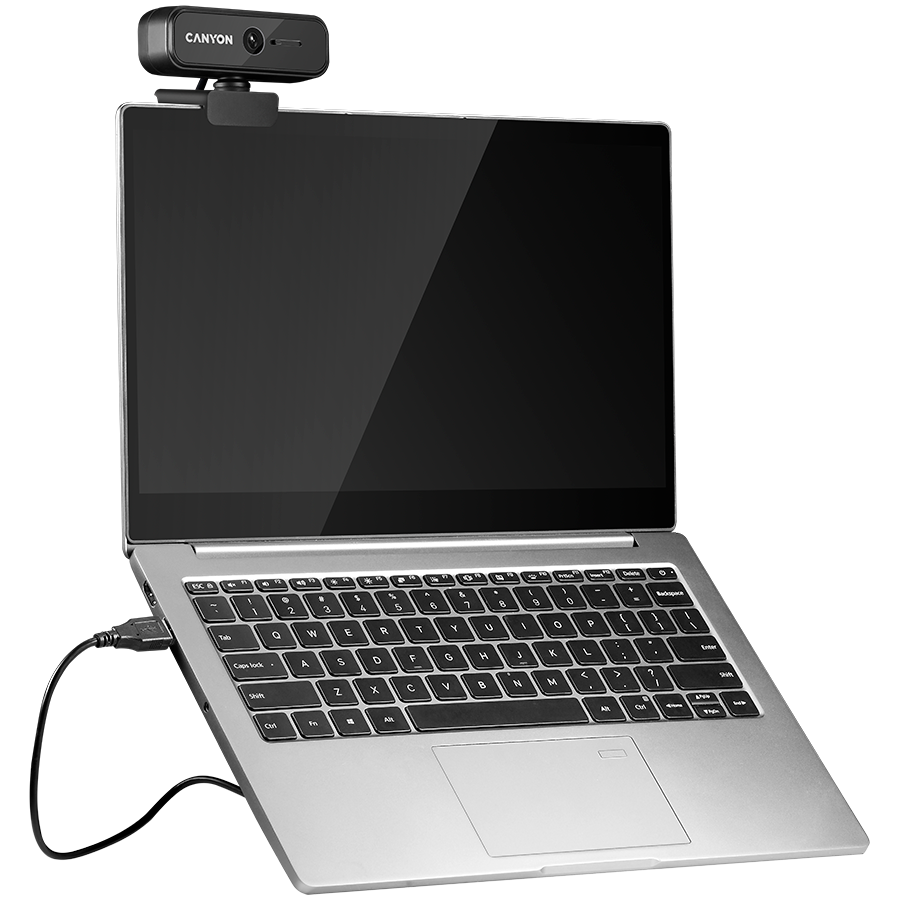 Data sheet
Ширина

90 мм

Височина

60 мм

Дълбочина

55 мм

Номинално тегло

0.095 кг

Гаранционни условия (месец)

24 мес.

Дълбочина на пакета (мм)

119 мм

Широчина на пакет (мм)

47 мм

Височина на пакет (мм)

122 мм

Тегло на пакет - Бруто (кг)

0.18 кг

Брой в пакет

1

Тегло на кашон - Бруто (кг)

7.2 кг

Пакети в кашон

36

EAN код

5291485007812

Максимална резолюция

1920x1080

Вградени устройства

Микрофон

Външен цвят

Черен

Тип пакет

С опаковка

Retail Packaging Net Weight Carton

0.091 кг

Retail Packaging Net Weight Plastic

0 кг

Включени аксесоари

Ръководство за употреба

Тегло на пакет - Нето (кг)

0.095 кг

Marketing Model Name

C2N

Commercial Name

Webcam Canyon C2N Full HD 1080p Black (CNE-HWC2N)

Дължина на кабела

1.5 m

Дълбочина на кашон (мм)

455 мм

Ширина на кашон (мм)

260 мм

Височина на кашон (мм)

263 мм

Camera Type

Web Camera

Резолюция на сензора

2 Mpixel

Интерфейс

USB 2.0

Horizontal Viewing Angle

88°

Характеристики на интернет камера

360 degree pivotFull HD 1080pFixed Focus