CANYON C5 1080P full HD 2.0Mega auto focus webcam with USB2.0 connector, 360 degree rotary view scope, built in MIC, IC Sunplus2
CANYON C5 1080P full HD 2.0Mega auto focus webcam with USB2.0 connector, 360 degree rotary view scope, built in MIC, IC Sunplus2281, Sensor OV2735, viewing angle 65°, cable length 2.0m, Black, 76.3x49.8x54mm, 0.106kg
redeem
By buying this product you can collect up to 7 loyalty points . Your cart will contain total 7 points that can be converted into a voucher of €0.36 .
Full HD live streaming Webcam
This webcam from Canyon allows to get sharp and smooth picture with more pixels at 30 frames per second. Record or stream clear videos even in dim light. CWC5 webcam automatically corrects low-light settings. It has a 1080p full-HD resolution and 65-degree wide-angle view to provide decent video quality for the viewers. Autofocus function and noise cancelling microphone will guarantee flawless streaming session. The camera can be clipped to a tripod or connected to Smart TV.
Features:
• HD resolution 1920x1080, 2.0 Mega pixels
• Video broadcasting rate 1920x1080 30F/S, 1280x720 30F/S , 640X480 30F/S
• Video recording format MJPEG/YUV
• USB 2.0 Interface
• Automatic focus
• Microphone with automatic noise reduction
• Automatic low light correction
• 65 degree horizontal viewing angle
• Tripod mount support
• Compatible with OS Windows, Android v5.0 or above, MAC OS 10.6 or above
• Compatible with Smart TV or TV box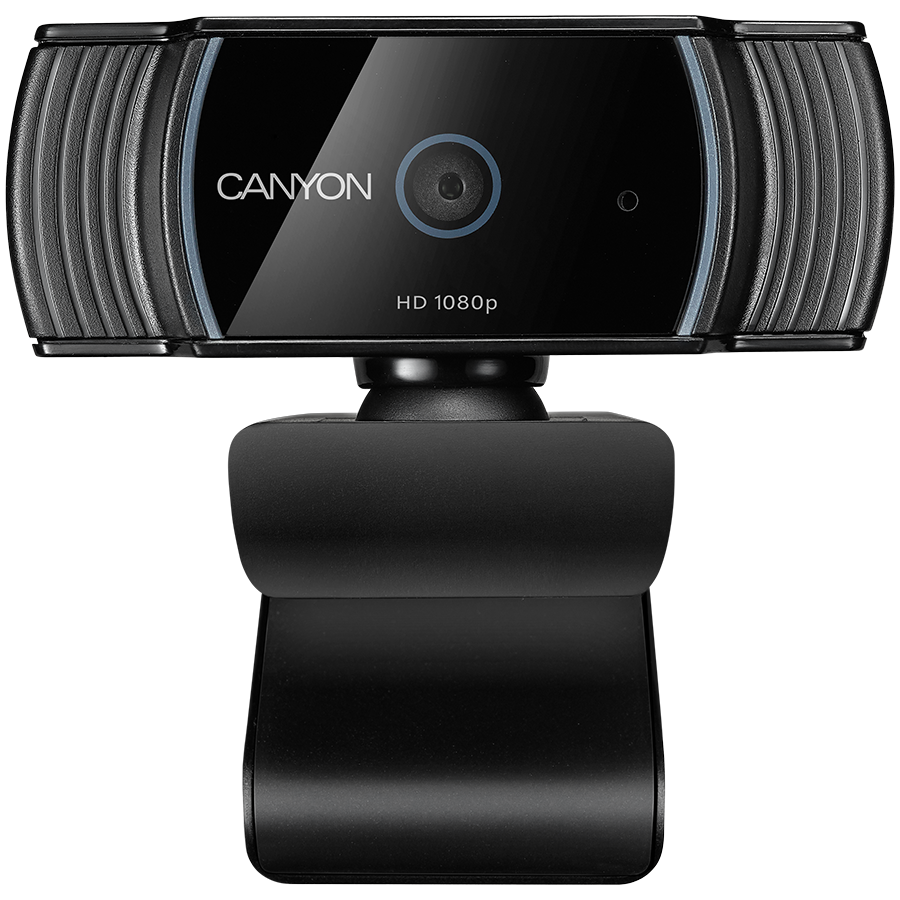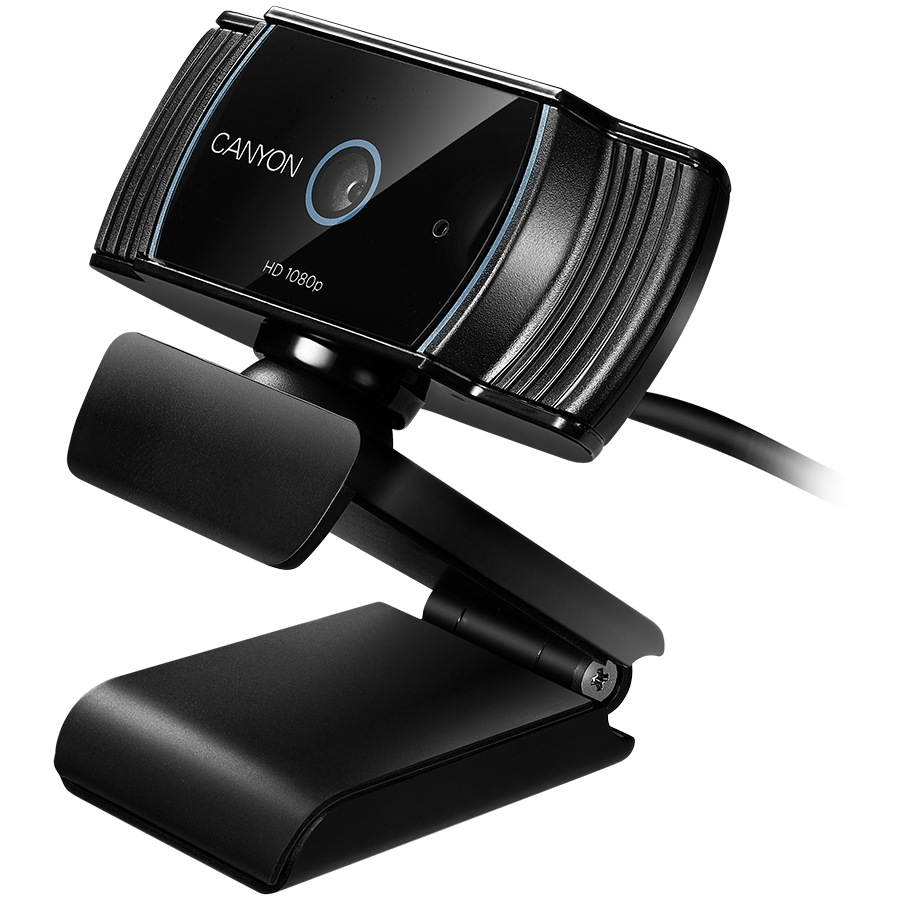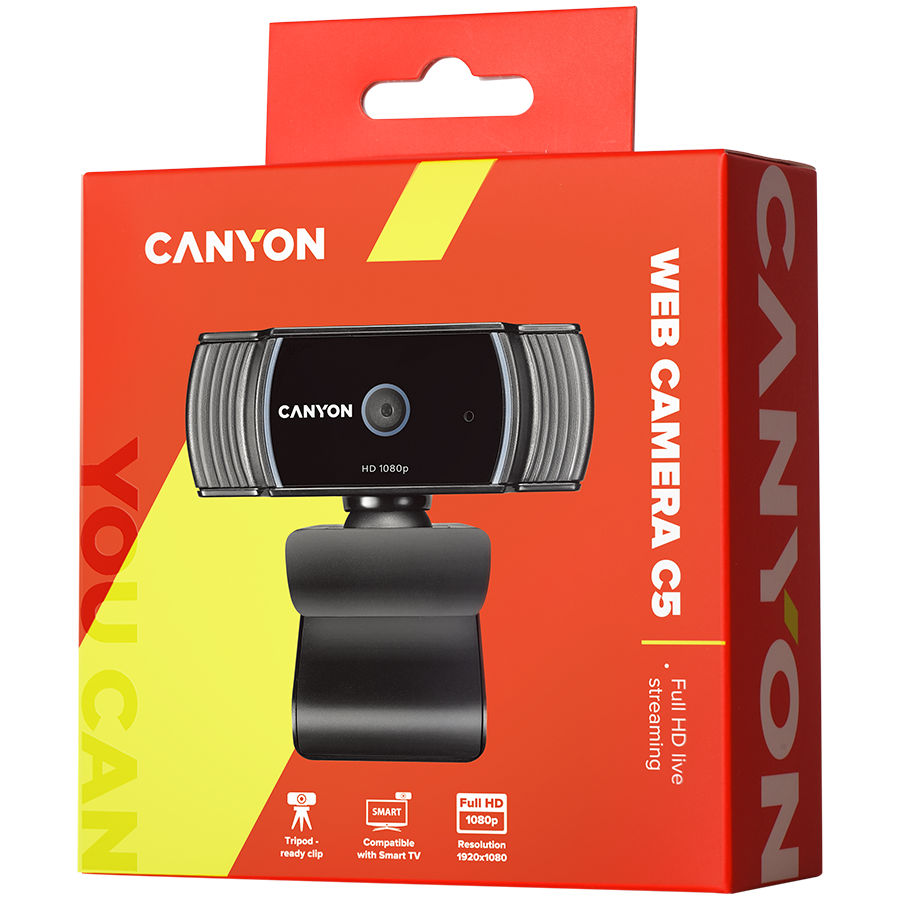 Data sheet
USB 2.0

1

Ширина

76.3 мм

Височина

49.8 мм

Дълбочина

54 мм

Номинално тегло

0.106 кг

Гаранционни продукти - подлежащи на връщане

Да

Гаранционни условия (месец)

24 мес.

Критерии за валидност на гаранцията

Сериен номер

Дълбочина на пакета (мм)

110 мм

Широчина на пакет (мм)

46 мм

Височина на пакет (мм)

118 мм

Тегло на пакет - Бруто (кг)

0.166 кг

Брой в пакет

1

Тегло на кашон - Бруто (кг)

5.81 кг

Пакети в кашон

32

EAN код

5291485004507

Вградени устройства

Микрофон

Външен цвят

Черен

Тип пакет

С опаковка

Retail Packaging Net Weight Carton

0.06 кг

Retail Packaging Net Weight Plastic

0 кг

Тегло на пакет - Нето (кг)

0.106 кг

Marketing Model Name

C5

Commercial Name

Webcam Canyon C5 Full HD 1080p Auto Focus Black (CNS-CWC5)

Дълбочина на кашон (мм)

395 мм

Ширина на кашон (мм)

260 мм

Височина на кашон (мм)

248 мм

Quantity of the boxes per pallet (by air)(pcs)

60

Dimensions of pallet (by air)(cm)

1000x1390x1200 мм

Quantity of the boxes per pallet (by sea)(pcs)

84

Dimensions of pallet (by sea)(cm)

1000x1886x1200 мм

Camera Type

Web Camera

Резолюция на сензора

2 Mpixel

Тип на матрицата

CMOS

Максимална скорост на хващане на кадрите

30 fps

Интерфейс

USB

Връзки

Cable 2 meters

Packs per Pallet

1512

Макс. видео резолюция

1920x1080

Horizontal Viewing Angle

65°

Diagonal Viewing Angle

75°

Характеристики на интернет камера

360 degree pivotAuto Focus

Quantity of the packs per pallet (by air)(pcs)

1920

Quantity of the packs per pallet (by sea)(pcs)

2688