CANYON Enhanced 1.3 Megapixels resolution webcam with USB2.0 connector
CANYON Enhanced 1.3 Megapixels resolution webcam with USB2.0 connector
redeem
By buying this product you can collect up to 3 loyalty points . Your cart will contain total 3 points that can be converted into a voucher of €0.15 .
Canyon CNE-CWC1
Enhanced 1.3 megapixel webcam
This web camera is perfect for simple, daily use. It offers practical functionality, straightforward design, and the best quality for the competitive price.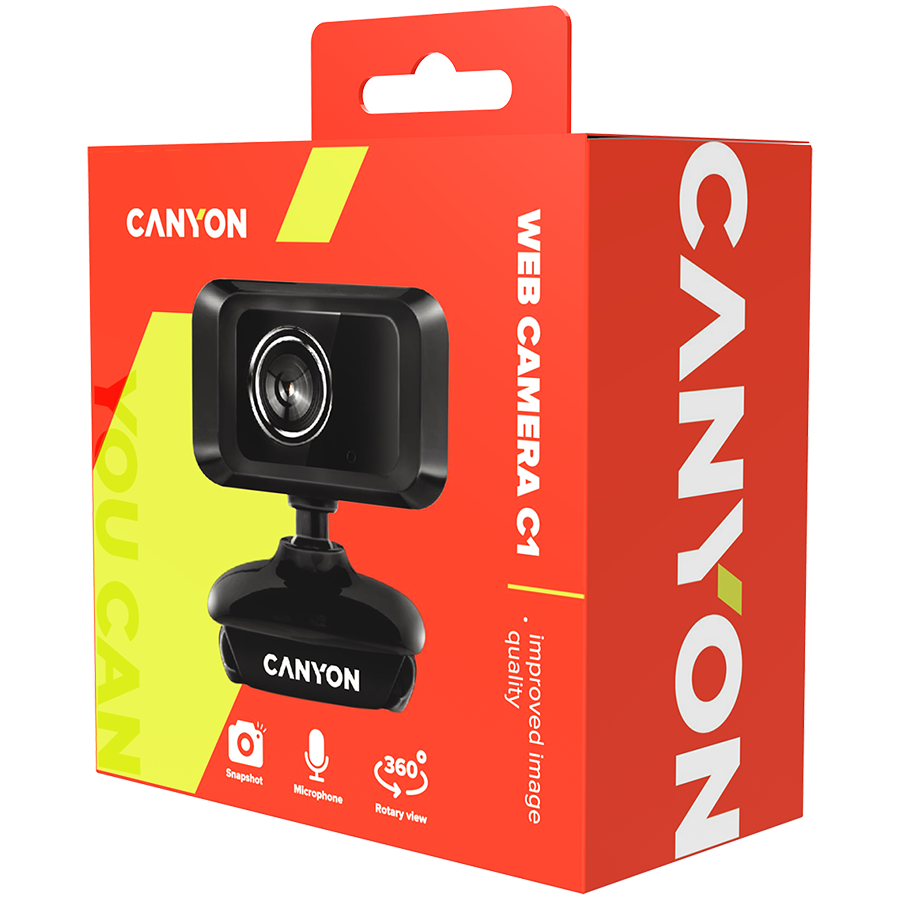 Data sheet
Ширина

49.9 мм

Височина

46.5 мм

Дълбочина

55.4 мм

Номинално тегло

0.065 кг

Гаранционни продукти - подлежащи на връщане

Да

Гаранционни условия (месец)

24 мес.

Критерии за валидност на гаранцията

Сериен номер

Дълбочина на пакета (мм)

95 мм

Широчина на пакет (мм)

50 мм

Височина на пакет (мм)

95 мм

Тегло на пакет - Бруто (кг)

0.09 кг

Брой в пакет

1

Тегло на кашон - Бруто (кг)

6 кг

Пакети в кашон

60

EAN код

8717371865191

Максимална резолюция

1.3 MPixel (by software)

Вградени устройства

Микрофон

Видове монтаж

Desktop/Monitor

Външен цвят

Черен/Сребрист

Тип пакет

Retail with hanger

Retail Packaging Net Weight Carton

0.03 кг

Retail Packaging Net Weight Plastic

0 кг

Тегло на пакет - Нето (кг)

0.06 кг

Marketing Model Name

C1

Commercial Name

Webcam Canyon C1 Black (CNE-CWC1)

Дължина на кабела

1.25 m

Дълбочина на кашон (мм)

524 мм

Ширина на кашон (мм)

305 мм

Височина на кашон (мм)

210 мм

Quantity of the boxes per pallet (by air)(pcs)

36

Dimensions of pallet (by air)(cm)

1200x1000x1410 мм

Quantity of the boxes per pallet (by sea)(pcs)

54

Dimensions of pallet (by sea)(cm)

1200x1000x2100 мм

Camera Type

Web Camera

Резолюция на сензора

0.3 Mpixel

Тип на матрицата

CMOS

Максимална скорост на хващане на кадрите

30 fps

Интерфейс

USB 2.0

Packs per Pallet

3240

Характеристики на интернет камера

360 degree pivotSnapshot Button and Video RecordingSensitive Microphone

Maximum Photo Resolution

640x480

Сертификати

CE, RoHS